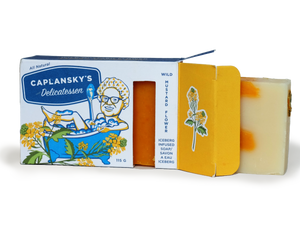 Caplansky's Deli & East Coast Coast Glow Colab Soap
Sale price Price $12.95 Regular price
There are many, well-known therapeutic and cosmetic benefits to using mustard.  Except on your best shirt. The single most important benefit of mustard is how it makes you feel. Taste, colour or now, the way it feels when you wash with it.
Thanks to our friends at Newfoundland's wonderful East Coast Glow we are proud to present our latest collaboration: Caplansky's Deli Mustard Soap.
Made with their signature Atlantic iceberg water and a blend of essential oils and natural cleansers, Karen and Roger have made something really special.  
In true
East
Coast Glow style, they fused together raw, organic mango, shea and cocoa butters, unrefined plant oils, and infused them with antioxidant-rich wild mustard, pure iceberg water, and an uplifting blend of citrus and rosemary essential oils. The result is a creamy, low lathering soap that will gently cleanse and envelope your skin in supple softness.
Newfoundland artist Jud Haynes is the creative genius behind the super fun box design. Legs for days.
Very Limited Quantities Available